Introducing MIDEA RAC "My Profe55ional Cool Idea 55th Anniversary" Campaign: Win Amazing Prizes with Midea Air Conditioners! 

Malaysia 1 May 2023 - Midea, a leading brand in home appliances, is thrilled to announce its exciting sell-out campaign, "My Profe55ional Cool Idea 55th Anniversary," which offers customers the opportunity to win fantastic prizes with the purchase of any Midea air conditioner. The campaign will run from 1st May to 31st July, giving customers ample time to participate and seize this incredible chance to win big!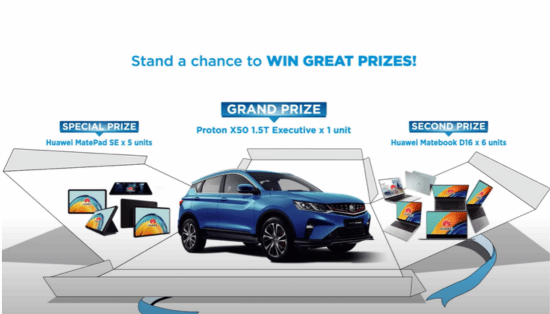 By purchasing any Midea Air conditioner during the campaign period, customers will automatically enter the draw to win one of the following prizes:
·        Proton X50 x 1 unit: Experience the thrill of driving away in this remarkable car, courtesy of Midea.
·        Huawei Laptop x 6 units: Enhance your productivity with these cutting-edge laptops, brought to you by Midea.
·        Huawei Mate pad x 5 units: Immerse yourself in a world of entertainment and creativity with these top-of-the-line tablets, courtesy of Midea.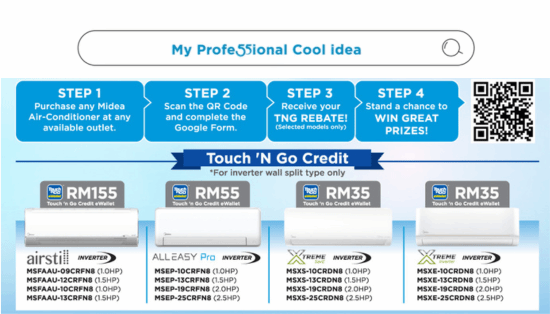 But that's not all! In addition to these amazing prizes, customers will also receive TNG e-wallet credit for any selected models from our Inverter series. This credit can be utilized for convenient and secure transactions through the Touch 'n Go e-wallet app.
To take advantage of this incredible opportunity, simply visit any of our authorized dealers near you today. Don't miss out on this exciting campaign, especially during the scorching hot weather. You and your family deserve the highest quality air indoors, allowing you to chill and make yourselves at home.
For more information and to locate the nearest authorized dealer, please visit our website at https://www.midea.com/my Follow us on social media for regular updates and campaign highlights.
About Midea:
Midea is a renowned global brand committed to providing innovative and high-quality home appliances. With over 55 years of excellence in the industry, Midea continues to revolutionize the way we experience comfort and convenience in our homes.
Contact : 
Karen Tan
Marketing Manager
+6016-3391966
Midea Scott & English Electronics Sdn Bhd
No. 16, Jalan Chan Sow Lin, 55200 Kuala Lumpur Malaysia