March 23rd, 2023 – Midea, one of the world's largest home appliance brands launched its first mobile game in cooperation with Manchester City.
Midea invites consumers to virtually step into Haaland's & his teammate's shoes and test their (finger)skills scoring penalties, corners, and free kicks under the frenetic sound of over 55.000 fans in a bewilderingly authentic Manchester City stadium experience.
Managing the three different football challenges within a very limited time, the highest scorers have the best chances to win an amazing Midea kitchen suite or laundry set, while the grand prize would take one lucky winner and a friend to Manchester to watch a Manchester City home game.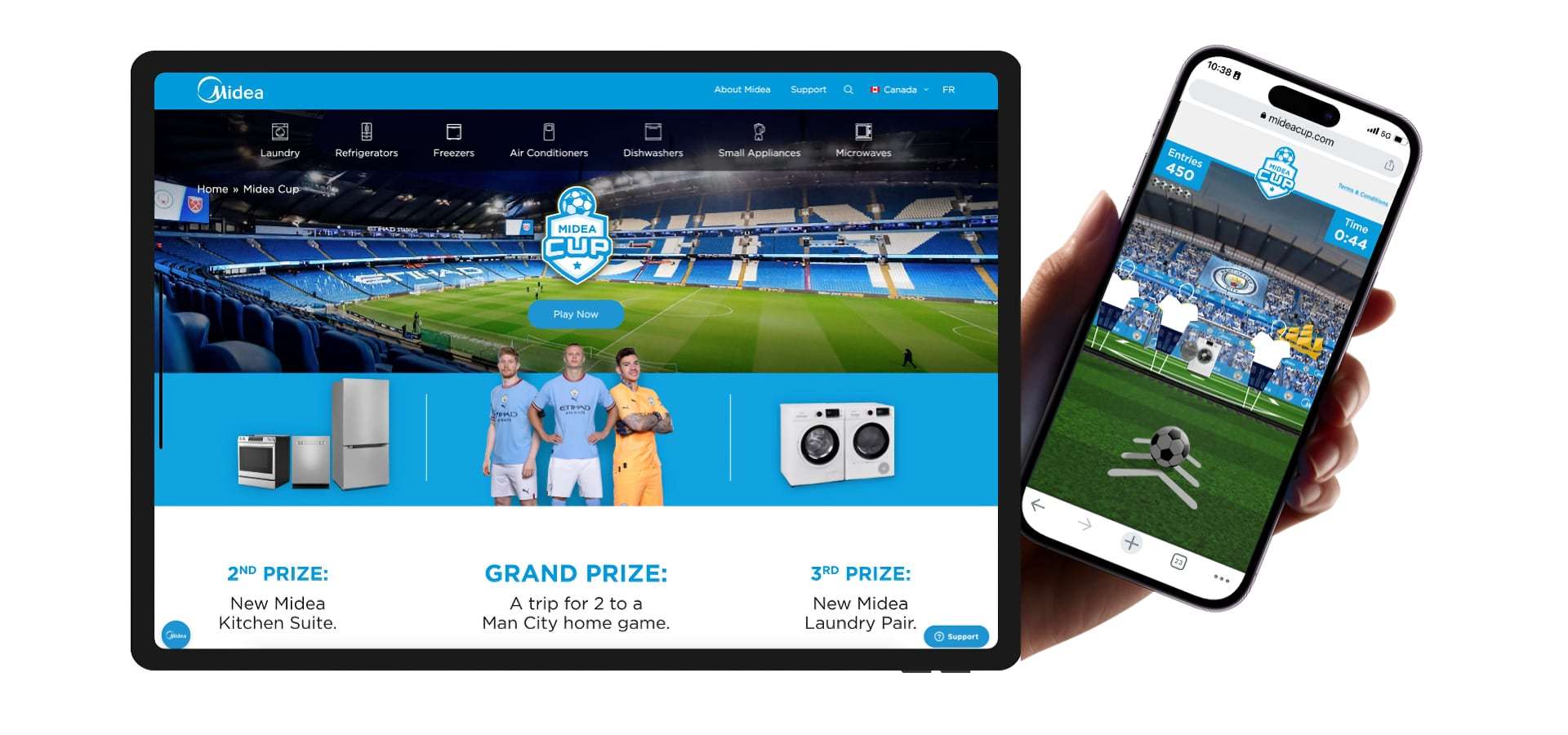 The game has just been launched in Canada with over thousands of entries within the very first days, whilst chances for Canadian consumers* to score & win stay open until May 15th, 2023.
During the next weeks Midea is rolling out the MideaCup also into other markets. Next in line are Saudi Arabia, Malaysia, USA and Argentina.

Have an eye on your market.
MideaCup
Canada Mobile Game*
https://mideacup.com/
For more information on 1st MideaCup in Canada
https://www.midea.com/ca/midea-mancity-game
*Please refer to the Terms & Conditions under
www.MideaCup.com
Midea + Manchester City
For more information about the Midea & Manchester City Global Sponsorship
https://www.midea.com/global/ManchesterCity
 
Contact

Canada

Natalie Chan
Digital Marketing Manager
natalie.chan@midea.com
Global

Brando Brandstaeter
Head of Global Brand & Communications
Brando.Brandstaeter@midea.com
Midea & Midea Group
Midea is one of over 10 brands within the smart home appliance business of Midea Group.
Midea Group, established in 1968, is a leading global high-technology company ranked #245 on the 2022 Fortune Global 500 list, and one of the world's largest home appliance manufacturing companies which businesses go beyond smart home appliances.
In early 2021 the company streamlined its core units into five high-growth business pillars to pave the new future growth path: Smart Home, Electro-Mechanical, Building Technologies, Robotics & Automation and Digital Innovation.
All businesses of Midea Group are striving for one credo: #HumanizingTechnology
The Midea brand believes in providing surprisingly-friendly solutions by adopting a consumer-centric and problem-solving approach. Going above and beyond for the future, constantly exploring and inventing to meet the ever-changing demand of our consumers – enabling them to 'make yourself at home'.
Midea Group's globally 35 production centers and over 166,000 employees in more than 200 countries and regions generated an annual revenue of more than USD 53.26billion in 2021. Its 28 worldwide innovation centers and the strong commitment to R&D have resulted in more than 62,000 authorized patents to-date.
Find out more at www.midea-group.com and www.midea.com