MIDEA AND MANCHESTER CITY

EXTEND GLOBAL PARTNERSHIP
Manchester, 23rd May 2023 – Midea, one of the world's leading and largest home appliances producer, today announced the extension of its global partnership with Manchester City.
The renewed agreement - which covers both the men's and women's teams and expanded to include City in the Community (CITC) in 2021 – sees the partnership enter its fourth term.
From the very beginning of the partnership in January 2020, Midea and Manchester City have collaborated to create a series of award-winning activations including the #MideaHomeChallenge, which saw City players performing tricks and inspiring fans to have football fun at home during lockdown, and #TasteTactics with players presenting their favourite dishes that were then cooked by celebrity chefs for fans to recreate at home.
The #MideaWorldClassAwards, launched at the end of each season of the partnership to date, has also been a hugely successful content series. Featuring Club Ambassadors Paul Dickov and Shaun Wright-Phillips, fans are encouraged to vote for their player of the season over fun categories such as the "Freshest Opener" (sponsored by Midea's Refrigerator) and the "Coolest Distributor" (sponsored by the Midea's Air-Conditioner) or the "Brilliant Finisher" (sponsored by Midea's Dishwasher). This year's eagerly awaited edition is soon to be released across Midea and Manchester City channels.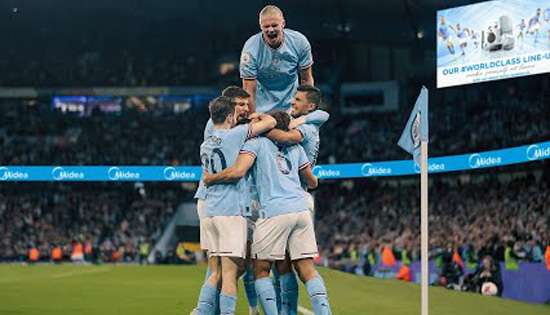 As part of the renewal, Midea and Manchester City will continue to create high quality content campaigns through further collaboration with players. The Midea brand, and their extensive range of products, will also be further showcased to match going fans and millions watching worldwide through increased brand presence in the Etihad Stadium across super-sized LED and pitch side branding.
Roel de Vries, Chief Operating Officer at City Football Group, said: "We are pleased to further extend our partnership with Midea today. We're incredibly proud of the success the partnership has seen to date and the high-quality content and activations we've been able to deliver in collaboration with Midea. As we move into this new term, we look forward to continuing to work together as we deliver further exciting projects for our fans."
"We kicked off our partnership during difficult times in early 2020 and have built a truly winning partnership over the years. I am delighted by Midea's global brand visibility at every Manchester City home game as well as all our different and overperforming digital content series being loved by the fans all around the world. The partnership team has shown, and the data has proven that this partnership is one imperative asset for Midea's global brand building vision over the coming years." said Eric Wang, President of Midea Group's Consumer Appliances Business.
Midea and Manchester City will also make further exciting announcements later this year.
About Manchester City Football Club
Manchester City FC is an English Premier League club initially founded in 1880 as St Mark's West Gorton. It officially became Manchester City FC in 1894 and has since then gone onto win the European Cup Winners' Cup, eight League Championship titles, including six Premier League titles (2012, 2014, 2018, 2019, 2021, 2022), six FA Cups and eight League Cups. Manchester City FC is one of twelve clubs comprising the City Football Group and counts New York City FC and Melbourne City FC among its sister clubs.
Under manager Pep Guardiola, one of the most highly-decorated managers in world football, the Club plays its domestic and UEFA Champions League home fixtures at the Etihad Stadium, a spectacular 53,500 seat arena that City have called home since 2003. Today, the stadium sits on the wider Etihad Campus, which also encompasses the City Football Academy, a state-of-the-art performance training and youth development facility located in the heart of East Manchester. Featuring a 7,000 capacity Academy Stadium, the City Football Academy is also where Manchester City Women's Football Club and the Elite Development Squad train on a daily basis and play their competitive home games.
About Midea & Midea Group
Midea is one of over 10 brands within the Smart Home Business of Midea Group.
Midea Group, established in 1968, is a leading global high-technology company ranked #245 on the 2022 Fortune Global 500 list, and one of the world's largest home appliance manufacturing companies which businesses go beyond smart home appliances. In early 2021 the company streamlined its core units into five high-growth business pillars to pave the new future growth path: Smart Home, Electro-Mechanical, Building Technologies, Robotics & Automation and Digital Innovation.
All businesses of Midea Group are striving for one credo: #HumanizingTechnology
The Midea brand believes in providing surprisingly-friendly solutions by adopting a consumer-centric and problem-solving approach. Going above and beyond for the future, constantly exploring and inventing to meet the ever-changing demand of our consumers – enabling them to "make yourself at home".
Midea Group's globally 35 production centers and over 166,000 employees in more than 200 countries and regions generated an annual revenue of more than USD51.16billion in 2022. Its 28 worldwide innovation centers and the strong commitment to R&D have resulted in more than 62,000 authorized patents to-date.
www.midea.com/global/ManchesterCity

Contact
Brando Brandstaeter
Head of Global Brand Management & Communication
Midea Group's International Business Division
Brando.Brandstaeter@Midea.com
Melissa Fenlon
Head of Marketing Communications
City Football Group
melissa.fenlon@cityfootball.com